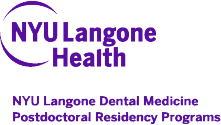 WNY's Postdoctoral Dental Residency Program!
About NYU Langone Dental Medicine AEGD Residency
The NYU Langone Dental Medicine Advanced Education in General Dentistry Program is a one-year (2nd-year optional) postdoctoral training program that is fully accredited by the Commission on Dental Accreditation of the American Dental Association, and provides recent dental school graduates with advanced clinical training and experiences as well as a didactic curriculum comprised predominantly of online course modules. Residents graduate well-positioned to launch solo practices, work in various types of dental practice offices, pursue advanced specialty programs or continue working in community health centers or public health dentistry. Graduates are equipped with the confidence, knowledge and skills to face any oral health challenge. A significant number of graduates stay on to work in the community health center where they trained during residency.
Residents train in clinical training sites that are approved by the Commission on Dental Accreditation (CODA) and provide a training environment exposing the residents to modern facilities equipped with the armamentarium to deliver advanced care to patients.
Clinical curriculum is focused on solidifying general dentistry skills and increasing the confidence of future practitioners.
Residents provide comprehensive oral health care to many vulnerable populations including: children, adults, elderly, as well as, populations with intellectual and/or developmental disabilities and a variety of medically complex conditions.
Residents receive clinical experience in most dentistry disciplines: preventive, restorative, endodontics, periodontics, removable and fixed prosthodontics, hard and soft tissue surgery, sedation techniques, pain and trauma management and dental public health.
Why Choose Shatkin Dental Health?
If you're wondering how to get affordable yet high-quality care, Shatkin Dental is a solution for you. Going to a dental residency program is not often the first thing you think of when you're looking for a specialist for your needs. Yet, you will find it to be quite possibly your most affordable and a top-quality option.
After your complementary initial examination our doctors can decide whether your condition can be treated in accordance with the needs of the dental school. If you are accepted, you will receive top care from Dental residents supervised by the best in the field. All your care will be approved by the supervising dentist, so there is no need to worry about its appropriateness.
We provide treatment that is customized to your needs and preferences. Patients are charged a reasonable fee in order to cover the operating costs of the facility. In this way, you avoid huge charges for expensive treatment and will pay only what is needed for your treatment. Our goal is education, and so you will be contributing to our students´ education to become the next generation to lead in the field of dentistry.
Call: 716-43-SMILE
Toll Free: 1-833-SHATKIN
Shatkin Dental Health
2500 Kensington Ave. Building #2
Amherst, NY 14226