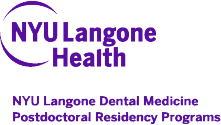 WNY's Most Innovative Postdoctoral Dental Residency Program!
About NYU Langone Dental Medicine AEGD Residency 
The advanced educational program in general dentistry (A.E.G.D.) provides advanced training beyond the level of predoctoral education in clinical dentistry and applied basic and behavioral sciences. During this program, students refine the skills necessary for the general dentist to provide comprehensive patient care for all population groups.
This is a planned, sequential postdoctoral training program that is specifically designed to meet the needs of graduates who want to enhance their skills as general practitioners. The program is a supplement to the predoctoral curriculum but is not a required component of that educational sequence.
Under the tutelage of a dental staff led by Dr. Todd Shatkin, residents see a wide variety of patients of all ages, including those with special health care needs and access to care challenges. They will gain experience in all aspects of general dentistry, including restorative, fixed and removal prosthodontics, implant restoration, endodontics (including molars), and oral surgery (including third molar extractions). They will also treat patients under IV sedation in conjunction with faculty members. Individualized mentoring is provided by experienced, knowledgeable, and enthusiastic faculty dentists. This program also includes a strong didactic component developed by NYU Langone Health.
Our office has become our patients' dental "home". Our patients are made to feel welcome and comfortable with each visit. Our comprehensive care philosophy is to maintain and provide our dental family with the finest and most personalized dental care available. We are dedicated to providing top quality service and satisfaction at all times. Our success is measured by our patient's willingness to recommend our dental care to their friends and family.
Our team includes dentists, hygienists & dental assistants, Shatkin Dental Health is able to provide everything from regular checkups & cleanings to the most complete cosmetic & restorative dentistry. Thanks to today's technology and materials; just about everything necessary may be done to help our patients look, feel and live better with healthier teeth and an improved smile!
Why Choose the NYU Langone Dental Medicine AEGD Residency at Shatkin Dental Health?
If you're wondering how to get affordable yet high-quality care, the NYU Dental Residency at Shatkin Dental is a solution for you. Going to a dental residency program is not often the first thing you think of when you're looking for a specialist for your needs. Yet, you will find it to be quite possibly your most affordable and a top-quality option.
After your complementary initial examination our doctors can decide whether your condition can be treated in accordance with the needs of the dental school. If you are accepted, you will receive top care from NYU Dental residents supervised by the best in the field. All your care will be approved by the supervising dentist, so there is no need to worry about its appropriateness.
We provide treatment that is customized to your needs and preferences. Patients are charged a reasonable fee in order to cover the operating costs of the facility. In this way, you avoid huge charges for expensive treatment and will pay only what is needed for your treatment. Our goal is education, and so you will be contributing to our students´ education to become the next generation to lead in the field of dentistry.
Call: 716-43-SMILE
Toll Free: 1-833-SHATKIN
Shatkin Dental Health
2500 Kensington Ave. Building #2
Amherst, NY 14226